ELEVATE YOUR OUTDOOR SPACE
WITH OUR USA MADE SOLAR LIGHTS
◦ advanced technology ◦ customizable ◦ professional grade ◦
MOUNTING OPTIONS
The SOLARADDRESS can be mounted in 2 ways. Either with a mounting plate or with eyelet keyholes. Options allow for more application opportunities. 
REMOVABLE SOLAR MODULE
The Solar Module for all of our SunTino products is removable. A feature you won't find anywhere else. 
VERSATILE
The Mesa is so versatile it can be used literally anywhere. Just some places are porches, decks, tables, outdoor venues, camping, stairs… or charge it and bring it inside for power outages. 
• 2700 K warm LED 80-180 lm
• Casts up to a 4 ft. diameter.
• Includes 2 -2000mAh batteries.
• 6 inch heavy-duty aluminum housing
• Stainless steel fasteners
• Designed and assembled in USA
• Patent Pending
• Wireless
• Super Bright
• Dimensions: 2″ x 6″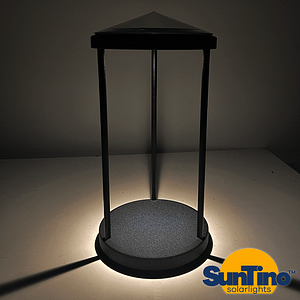 SLEEK DESIGN
The SOLARADDRESS  light features a sleek aluminum in 6 powder coat finishes. Our removable solar module provides up to 180lm of indirect light with 4 different intensity settings, Auto on with timer off option at 4hr, 6hr, or 8hr. Casts a 6ft. dia of 2700k warm white light or 5000k white light. There are two mounting options for the address light and the possibilities are endless for this fixture.
BUY QUALITY
$249

BUY ONCE
SunTino Solar Lights 2023- All rights reserved.